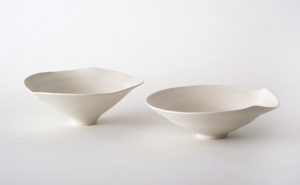 My first solo exhibition is held at STURT Gallery in Contemporary Craft Centre in Mittagong NSW. This is a very special place for potters and makers. So many established and acclaimed Australian potters made pots here and exhibited. Since my graduation from the National Art School in 2006, I have been dreaming about exhibiting my work at this special gallery.
My dream came true today. I wanted to show my white porcelain vessel like the blank canvas as my departure of a potter's carrier.
Thank you to the people who came to my opening. I felt very supported. I received many emails from people who could not make it to my opening party. It was very kind of you too, thank you.  I was very happy to see Jessica, Wendy, Emma who studied ceramics together at the National Art School era as we shared tear and laughter together then.
I can only confess now that I've tried to withdraw my first solo exhibition although I was accepted and it was my dream…because I have conceived my first baby just a year before the exhibition (You apply to the exhibition in 2 years in advance at STURT Gallery) and It was extremely hard to get work done with morning sickness. In addition to that, I had to leave my studio space in Chippendale where I originally set up everything from a scratch by myself, because of the investor purchased my studio space. I was at a loss, however me and my partner decided to purchase a little house in the Central Coast immediately, then I set up my new studio in order to make work for my solo exhibition. My birth was complicated and I was not well enough to go back to work to be honest, however, I went back to my studio in 3 weeks after the birth.
As an outcome of my struggle, one of my emotional piece "mother and child" was born and found a good home of Veronia and Ross. I cannot express my feeling into any words as this was my big milestone as an artist and as a woman.
And it was incredibly honoured to have Patsy Hely, the president of the ceramic association at my opening, as well as Sandy Lockwood, my admired teacher from the National Art School, Helen Stephens from All Hand Made gallery…I cannot list all up as this goes too long!
Last, thank you Ruark, my guest speaker who drove down to Mittagong despite his busy schedule for his own show in Hazelhurst Gallery.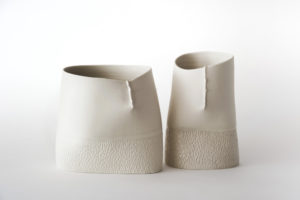 私の初めての個展がミッタゴンにあるスタートギャラリーで催される運びとなりました。ここは、陶芸家や工芸家にとって非常に特別な場所で、オーストラリアの大御所陶芸家をはじめ、世界的に有名な陶芸家たちがこの場所でレジデンーや展示をしてきたという、由緒あるコンテンポラリー・クラフト・センター兼ギャラリーです。
初めての個展はこのスタートギャラリーからスタート(笑)を切りたい、という私の夢の一つが今日叶いました。陶芸家として始まる私のこれからの未来に向け、先ずは真っ白な器を展示したいと心に秘めていたのです。
ナショナル・アート・スクールを卒業して6年目の2012年。今まで沢山のグループ展に参加し、オープニング・パーティーにも飽きる程行った私ですが、自分の為のレセプションとなると緊張で胸がいっぱいでした。遠方から来てくれた友人や、また来れないけれど励ましのメールや電話をくれた友達に感謝しています。
今だから言える事ですが、この個展が決まってすぐ妊娠が発覚し、キャンセルを申し出ましたが受け付けてもらえず、激しいつわりの中作品を作り続けました。不幸にもその後すぐ工房が他者の手に渡り追い出されることに…。初めての個展なのに制作の場所を失った私は途方にくれましたが、シドニーに物件が見つからなかったのもあり、急遽セントラル・コーストで小さな一軒家を買う決意をし、工房を立ち上げました。難産のあげく別途追加の手術も出産後すぐ行ったので、身体はぼろぼろでしたが、工房には産後3週間でもどり制作に励みました。苦労の結果、私の手から生まれたてきたのが"母と子"という作品(以下の招待状の写真)です。
今回の作品は女性の身体を意識したものが多く、以前から作っているスカーシリーズに新しいフォルムが加わりました。どれもとても感情がこもっている作品たちです。
オーストラリア・セラミック協会代表のパッチーさん、尊敬するサンディー・ロックウッド先生、ヘレン・スティーブンさん等にオープニングにお越し頂けたことを心から嬉しく思っています。最後に、私の個展のスピーチをして頂いたアーティストでありライターのルアーク・ルイスさんに心からお礼を申し上げたいと思います。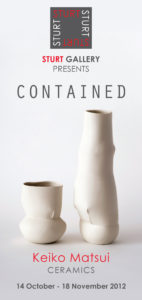 STURT Gallery
Address: Range Rd & Waverley Parade, Mittagong NSW 2575
Exhibition Dates: 14th Oct – 18 Nov 2012
Opening hours: 10-5pm Everyday
Phone: (02) 4860 2083
Opening drinks: 11am Sun 14th October 2012