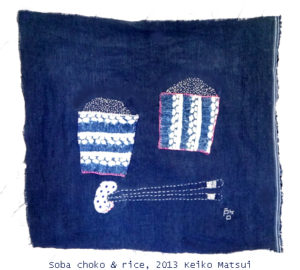 'iro-iro' means 'various' or 'of different kinds' in Japanese. 'iro' translates as 'colour'.
For this exhibition I have added new colours into my work and have created all kinds of objects and drawings by integrating new materials such as paper, fabric, wood, and wire to my fine porcelain work.
I admire all crafts and so, want to capture the essence of craftsmanship in various forms into this new work.
My love of sewing led me to think about mending. We mend a piece of clothing and continue to use it so why not ceramics too? My mending project started when I was patching a favourite porcelain cup some time ago.
In Japan there is a practice of mending broken tea bowl with lacquer and gold/silver/tin powder. This is called 'kintsugi'. We then continue to use the bowl and appreciate the whole of the object.
Through the paper vessels, fabric bowls, patched cups, stitched vases, wired objects and embroidered drawings in this exhibition I have expressed my respect for traditional crafts while exploring ceramic forms. Each piece has taken many hours of labour and through this meditative process I have gained new realizations about the practice of craft and the resulting objects.
イロイロとは日本語で、"様々な"とか"違った種類"のといった意味で、色は、カラーのことを示す。今回の個展はあまり拘りを持たず、カラフルでイロイロな素材を用いて作品作りに挑もうと思い、紙、布、木やワイヤーなどを従来の磁器の作品に加えてみました。
私の趣味の裁縫もアートに取り込み、あえて手縫いでチクチク作品を描きました。
紙で作った花器、布で作ったボウル、パッチワークしたコップ、ステッチしてある花瓶、ワイヤーで描かれたオブジェ、刺繍を用いた絵等が展示予定です。どの作品も時間のかかる作業でしたが、その作業を通じてクラフトの真髄を垣間見ることができたと想っています。
Address: 281 Clarence Street, Sydney, NSW 2000
Exibition dates: 17th Oct – 28 Oct 2013
Opening hours: Mon-Fri: 10-6pm, Sat: 11-5pm, Sun+Holidays: Close
Gallery phone: 02 9283 4273
Opening drinks: 6pm, 17th Octber 201