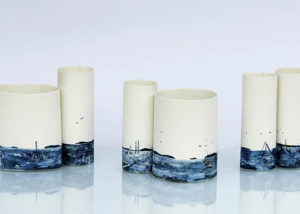 I will be exhibiting my new body of work at the Gosford Regional Gallery from 13th December until 1st February. I challenged the new slab technique for thin porcelain pieces and I drew images of my surroundings (Brisbane water area) in the Central Coast. The images of water, yachts, and boats are captured onto my pieces.
Gosford Regional Gallery has beautiful Japanese garden (stone garden, pond with KOI fish, wisteria, cherry blossom, plum, and tea house) which was created by professional Japanese gardeners from Japan. It is a part of sister city (Gosford city and Edogawa, Tokyo are sister city) contribution/exchange program.
While my exhibition is on, there are TWO exhibitions:
The Archibald Prize exhibition [22 Nov 2014 – 4 Jan 2015]
2nd Tamworth Textile Triennial [10 Jan 2015 – 22 Mar 2015]
I will be at the opening on Saturday 13th December. I look forward to seeing you.
Address: 36 Webb Street, East Gosford, NSW 2250
Date: Saturday 13th December – Sunday 1st February
Opening hours: 10-4pm
Phone: 4304-7550
Free Entry