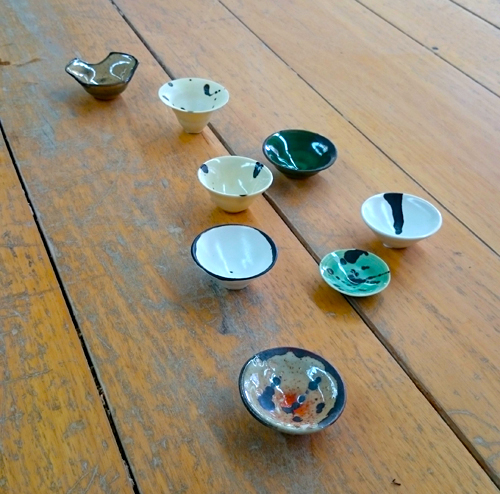 Porcelain Techniques – "Wheelforming" with Keiko Matsui
In this hands-on practical workshop with Japanese ceramic artist Keiko Matsui, students will explore wheelforming, glazing and surface treatment techniques using a range of porcelain clay bodies.  Over the six week workshop Keiko will demonstrate wheelforming,  surface treatment and glazing techniques adapted to the porcelain medium as well as giving each student advice & help to achieve individual goals.
Participants will make and fire a series of works which explore the potential and unique properties of the porcelain medium.
次の教室のお知らせです。轆轤成形を中心とした陶芸教室がホーンズビーTAFEで行われます。4時間x6回のコースで、数種類の白い磁土を用い、轆轤、釉薬、装飾技法など紹介します。ホーンズビーTAFEは数多くの轆轤と電気窯とガス窯を設置いる他、沢山の釉薬の種類があり、酸化・還元の両方の焼成が可能です。轆轤や釉かけのデモ以外に、個人別アドバイスを行い、各生徒のレベルにあった指導をさせて頂きます。お申し込みはinfo@keikomatsui.com.auまで。
Porcelain Throwing Course @ Hornsby TAFE
Teacher: Keiko Matsui
Dates: Monday 19, 26 March, 9, 30 April, 7, 14May 2018 (4 hrs x 6 classes)
Times: 10am to 2:30pm
Cost: $350 + materials (All firing fee is included)
Email: info@keikomatsui.com.au
TEL: 9942 – 3686 (TAFE)
Enrollment:
https://www.tafensw.edu.au/offering/158-43067V01-18HNB-001/TAFE-Plus-Attainment-in-Ceramics—Porcelain-Techniques